Welcome to the Puppy Power-Pedia
Curious about the original 1980's cartoon series? Ever wonder what the characters look like? Are you a fan of the TV Series, TV Special, and 1988 movie? Welcome aboard to the database and fanbase of the 1980's version of the Pound Puppies! Now, let's start pounding! Fan art and fan predictions are also welcome.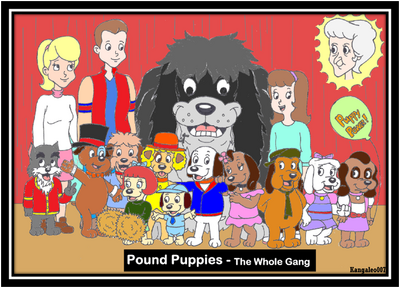 What is this Wiki all about?
After the success of the Pound Puppies TV Special in 1985, the Pound Puppies TV Series got started in 1986. It follows the adventures of Cooler, Nose Marie, Whopper, Bright Eyes, Howler, and Holly inspired by one of Tonka's popular toy lines, Pound Puppies. The Pound Puppies then debuted on the silver screen with the 1988 movie, Pound Puppies and the Legend of Big Paw. This is your guide to the characters, episodes, The 1985 TV Special, and the 1988 movie in the world of the Pound Puppies.
Characters
The Who's Who and Guess Who page will give you access to all the characters in the 1980's TV series, The 1985 TV Special, and the 1988 movie.
TV series
This Episode List will give you easy access to all of the episodes of the original 1980's TV Series.
Polls
Every once in a while, you'll find an article with a poll on who's your favorite character or what's your favorite episode. Let your voice be heard!
Fan art
Are you a die-hard fan of the Pound Puppies? Just send your artwork and, if it's really, really good, it'll be posted on the Tribute to the Pound Puppies page!
Songs
Remember that one song from one of the episodes and the movie? The Songs page will guide you to all the songs seen in the Pound Puppies TV Series and Pound Puppies and the Legend of Big Paw.
Books
Remember that one book you used to read when you were a kid? Come check out the Books page!
What Would Happen If...?
At the What Would Happened If...? page, the future lies unknown after the Pound Puppies TV Series ended its syndication on December 19th, 1987. See what you can predict!
Poll of the Month
The Poll of the Month is a monthly poll on an artwork featuring what-ifs and what new character should be added. The winnning choice will be featured on this page in a few days.
Latest activity
Community content is available under
CC-BY-SA
unless otherwise noted.