Henrietta is the second child of Hairball and Charlemange.
Henrietta

Henrietta, the second child and oldest daughter of Hairball and Charlemange

Age

6 human years old
3 kitten years old(Three years ago)

Likes

Catgut Jr.

Dislikes

Those who try to hurt Catgut Jr.

Relationship

Hairball(Father)
Charlemange(Mother)
Stefan and Pan(Descendants)
Charles(Older brother)
Hairball Jr.(Younger brother)
Rose(Younger sister)
Appearance
Henrietta is a Nebelung/Colorpoint Shorthair kitten with white fur, a gray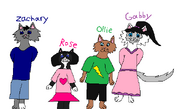 face, and a gray tail. Henrietta wears a pink dress. She also keeps her dark hair in a ponytail and has green eyes. After three years, Henrietta's tufts grew longer and she started wearing a pink shirt and purple pants.
Personality
While Henrietta is caring, loving, and sympathetic, she is flirtatious and has a crush on Catgut Jr., althought Catgut Jr. is oblivious and sees her as a good friend. Her favorite hobby is painting and playing the violin.
Ability
Henrietta is a skilled painter and violin player.
Trivia
Henrietta is a fan-made character created by Magic-is-cute and Rigsrigsrigs10918.
Community content is available under
CC-BY-SA
unless otherwise noted.