Fubuki is one of the Seven Samurai Dogs.
Fubuki

Fubuki, the strongest member of the Seven Samurai Dogs

Age

27 dog years old
24 dog years old(3.4 human years old)(Three years ago)

Likes

Training, snow, snow cones

Dislikes

Hot weather

Relationship

Ichiro(Friend)
Daikeizu(Friend)
Issun(Friend)
Kohaku(Friend)
Kaguruma(Friend)
Bara(Friend)
Gamma(Mentor)
Appearance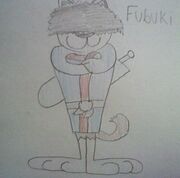 Fubuki is a tall, muscular Shiba Inu with tan fur and white paws. He wears a blue kimono and a purple belt. He carries a sword in a light blue sheath and has long, dark hair covering his eyes. After three years, Fubuki started wearing a brown winter cap and black pants.
Personality
Fubuki is quiet and never speaks. He prefers to let his actions to the talking. He loves to train and loves to play in the snow. Despite the fact that he is slightly slow, Fubuki is easily annoyed by Dumbo's stupidity. He is best friends with Kaguruma. His favorite food is snow cones.
Ability
Fubuki is skilled with super strength and swordsmanship. He can tear down a brick wall with ease.
Trivia
Fubuki is a fan-made character created by Rigsrigsrigs10918.
His name is Japanese for "Snowstorm".
Fubuki hails from Oshima, Japan.
Gallery
Community content is available under
CC-BY-SA
unless otherwise noted.