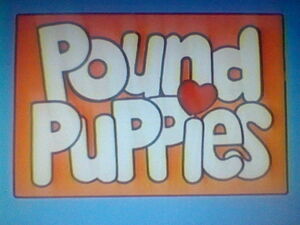 The TV Series consists of 26 episodes that ran from 1986 to 1987. The First Season featured the Pound Puppies Pet Care Corner at the end of each episode. The second season was also known as the All New Pound Puppies.
Season 1 (1986)
Episode 1: Bright Eyes, Come Home
Episode 2: How to Found a Pound
Episode 3: From Wags to Riches
Episode 5: The Fairy Dogmother
Episode 6: Whopper Cries Uncle
Episode 8: The Captain and the Cats
Season 2 (1987-1988)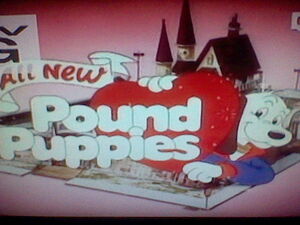 Episode 14: Whopper Gets the Point/The Bird Dog
Episode 15: Tail of the Pup/King Whopper
Episode 16: Tuffy Gets Fluffy/Casey, Come Home
Episode 17: Where Do Puppies Come From?/Pups on the Loose
Episode 18: The Invisible Friend/Kid in the Doghouse
Episode 19: Little Big Dog/The Bright Eyes Mob
Episode 20: The Rescue Pups/Goodnight, Sweet Pups
Episode 21: Snow Puppies/Nose Marie Day
Episode 22: Where's the Fire?/The Wonderful World of Whopper
Episode 23: Bright Lights, Bright Eyes/Dog and Caterpillar
Episode 24: Garbage Night, the Musical
Out of all the episodes, which one is your favorite?
See also
Pound Puppies and the Legend of Big Paw
Pound Puppies:The 1985 TV Special
Do you think there should be a remake that could be a follow up for this TV series?
Community content is available under
CC-BY-SA
unless otherwise noted.