Emerald is a member of the Order of the Cattails.
Emerald

"Emerald, the feline fisherman"

Age

17 Human years old
12 human years old(Five years ago)

Likes

Fish, fresh air, lakes, Kyle

Dislikes

Pollution

Relationship

Romero, Jade, Kendall, Androy, San-Chan, Suda, Wilma, Sabrina, and Pearl(Friends)
Kyle(Boyfriend)

Birthday

April 28th, 1998

Full name

Emerald Wattana
Appearance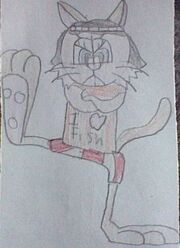 Emerald is a tall Thai cat with tan fur, pink nose and tan ears. She wears an orange T-shirt with the words "I Love Fish" on it, red and white striped shorts and a pink headband. She has long, dark hair and blue eyes. She is the same height as Victoria.
Personality
Emerald has a carefree nature and usually spends her time fishing. She will eat any kind of fish-related food. She is good friends with Ming. Emerald has a strong dislike against pollution. She has a crush on Kyle. Her favorite past time is fishing. She is best friends with Vigor and Precious. She usually goes sunbathing near a lake.
Ability
While Emerald is a master of kick-boxing, she uses her fishing rod as a back-up weapon. She can also play the bongos. Emerald is also good at making sushi and other seafood dishes.
Trivia
Emerald is a fan-made character created by Rigsrigsrigs10918 and CartoonLover.
She hails from Yala, Thailand.
Her full name is Emerald Jean Wattana.
Her birthdate is April 28th, 1998.
She is the only member of the Order of the Cattails to find herself a romantic interest.
Community content is available under
CC-BY-SA
unless otherwise noted.